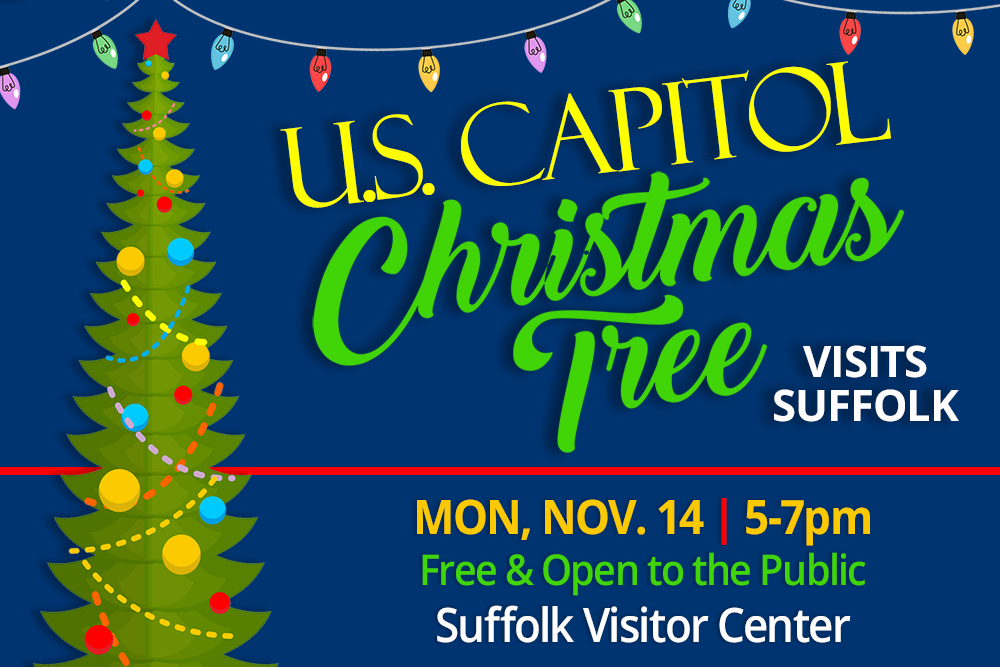 U.S. Capitol Christmas Tree Visits Suffolk
Each year, a different national forest provides a tree to light up the West Lawn of the U.S. Capitol building for the holiday season. The National Forests in North Carolina, in partnership with nonprofit partner Choose Outdoors, will bring the 2022 U.S. Capitol Christmas Tree from the Pisgah Forest to Washington, D.C., including a special appearance Monday, November 14, 2022, from 5-7pm, at the Suffolk Visitor Center.
Festivities during the Tree's visit to Suffolk will include seasonal kid's crafts by Suffolk Art League, carols by the Suffolk Center for Cultural Arts' Chorus, and Holiday Story Time by the Suffolk Public Library. Complimentary hot beverages will be provided by pH Coffee Bar and take-home Suffolk coloring books will be made available, both sponsored by Suffolk Tourism. Additionally, Suffolk Tourism will collect new unwrapped toys to benefit ForKids, an organization dedicated to breaking the cycle of homelessness and poverty for families and children in Southeastern Virginia. This U.S. Capitol Christmas Tree's visit and all associated activities are free and open to the public.
About the Tree:
The 78-foot-tall Red Spruce will be harvested on the Pisgah National Forest in early November and prepared for the nearly 1,000-mile expedition. The journey will include a series of outdoor community celebrations before being delivered to the U.S. Capitol on November 18, where it will be decorated with handmade ornaments and tree skirts specially created by North Carolinians.
For news, events, and tour information, visit UsCapitolChristmasTree.com, along with Facebook, Twitter, and Instagram.