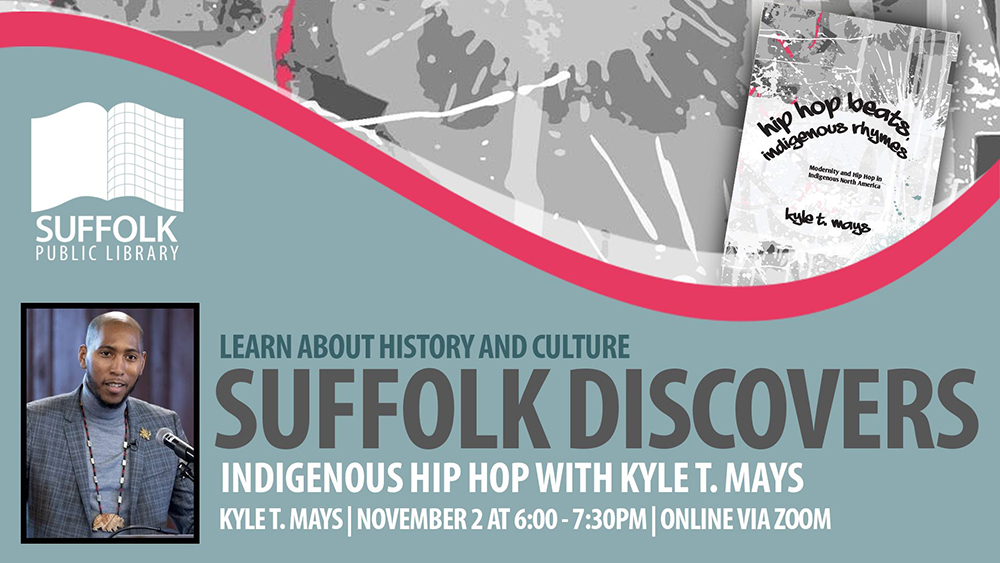 Suffolk Discovers: Indigenous Hip Hop with Kyle T. Mays
Interested in learning more about the world and history? Suffolk Discovers meets to discuss a new theme each session that explores the cultures and backgrounds of people in our communities. For adults.
About this session:
Expressive culture has always been an important part of the social, political and economic lives of Indigenous people. More recently, Indigenous people have blended expressive cultures with hip hop culture, creating new sounds, aesthetics, movements and ways of being Indigenous. You can learn more about this from our guest speaker, Kyle T. Mays. Mays is an Afro-Indigenous (Saginaw Chippewa) writer and scholar of US history, urban studies, race relations and contemporary popular culture. He is also an Associate Professor of African American Studies, American Indian Studies and History at the University of California, Los Angeles.
No registration required to attend in-person, the speaker will be attending virtually. Registration is required to attend virtually. Registered participants will provide their email address to receive a link to the Zoom meeting at least 15 minutes before the event begins.
For more information and to register for the virtual viewing, visit: https://suffolkpubliclibrary.libcal.com/event/10718561