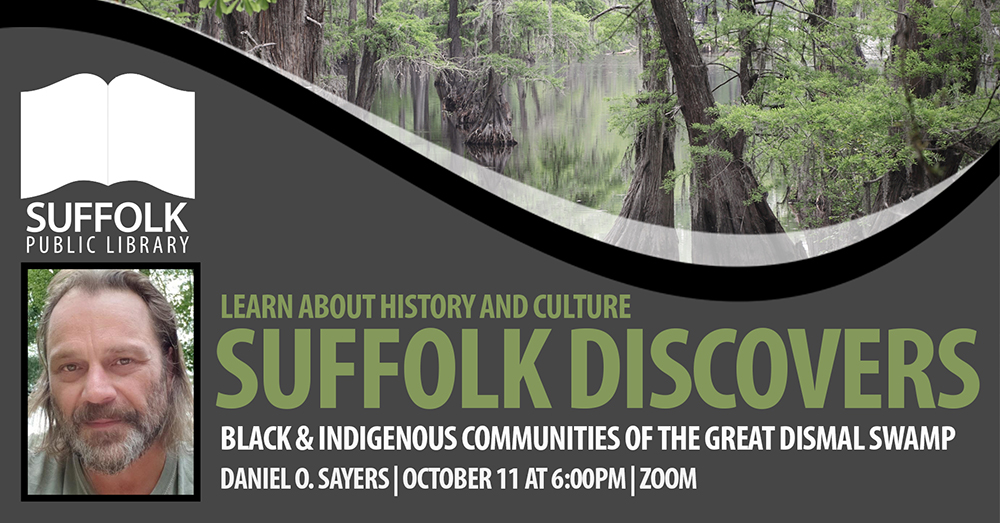 Suffolk Discovers: Black and Indigenous Communities of the Great Dismal Swamp
Interested in learning more about the world and history? Suffolk Discovers meets every month to discuss a new theme that explores the cultures and backgrounds of people in our communities. For adults.
This month we're pleased to host Daniel O. Sayers, author of A Desolate Place for a Defiant People: The Archaeology of Maroons, Indigenous Americans, and Enslaved Laborers in the Great Dismal Swamp.
About the Talk
In the 250 years before the Civil War, the Great Dismal Swamp of Virginia and North Carolina was a brutal landscape—2,000 square miles of undeveloped and unforgiving wetlands, peat bogs, impenetrable foliage, and dangerous creatures. It was also a protective refuge for marginalized individuals, including Native Americans, African-American maroons, free African Americans, and outcast Europeans. In the first thorough archaeological examination of this unique region, Daniel Sayers exposes and unravels the complex social and economic systems developed by these defiant communities that thrived on the periphery. He develops an analytical framework based on the complex interplay between alienation, diasporic exile, uneven geographical development, and modes of production to argue that colonialism and slavery inevitably created sustained critiques of American capitalism.
Registration required to attend virtually. Registered participants will provide their email address to receive a link to the Zoom meeting at least 15 minutes before the program begins. The event will be recorded and shared after the event on Suffolk Public Library's YouTube channel.
To Register: https://suffolkpubliclibrary.libcal.com/event/9241613