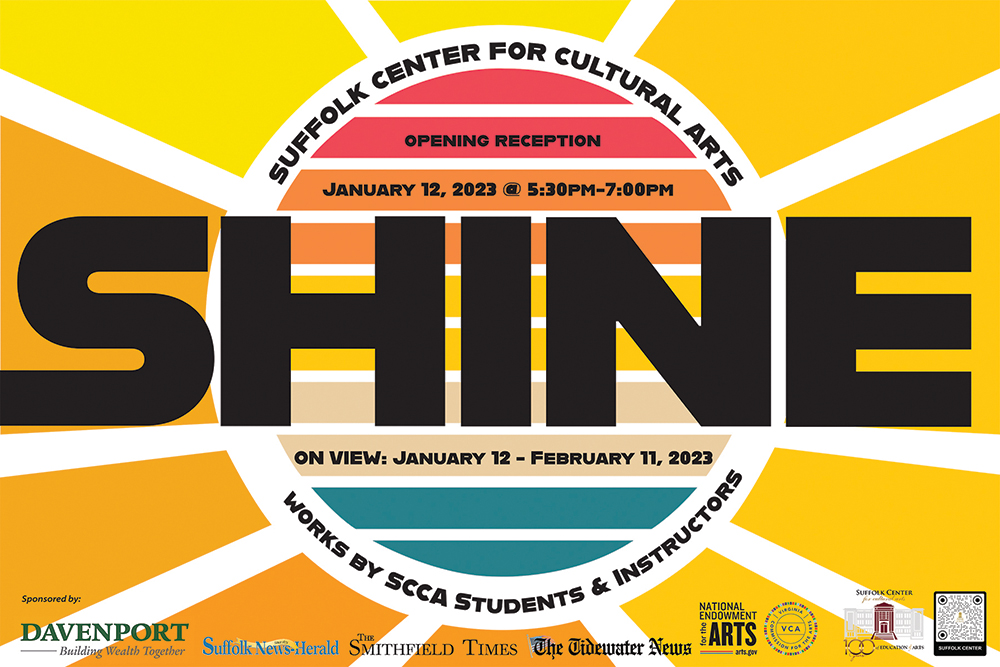 Shine: An Exhibit at the Suffolk Center
The Suffolk Center for Cultural Arts offers a variety of art classes throughout the year. This exhibit, SHINE, highlights the work completed by students in these classes along with that of their instructors. The exhibit will also feature artwork by some of the SCCA administrative staff.
Barbara Anne Harris | Suffolk, VA
Bonnie Kaczmarczyk | VA Beach, VA
Darlene Keyt | Windsor, VA
Elizabeth Blanchard | Suffolk, VA
Gordon Jones | Suffolk, VA
Hanna Zadorozhnia | Suffolk, VA
Jeanice Sadler | Suffolk, VA
Joy Branch | Ivor, VA
Karen Sallaz | Suffolk, VA
Lisa Morrison | Suffolk, VA
Phyllis Quire | Suffolk, VA
Rachall Brinkley | Suffolk, VA
Regina DeVal | Suffolk, VA
Rhona Dawson | Suffolk, VA
Sandy West | Chesapeake, VA
Exhibit is on view January 12-February 11, 2023. The galleries are open from 10am-4pm, Tuesday-Saturday.