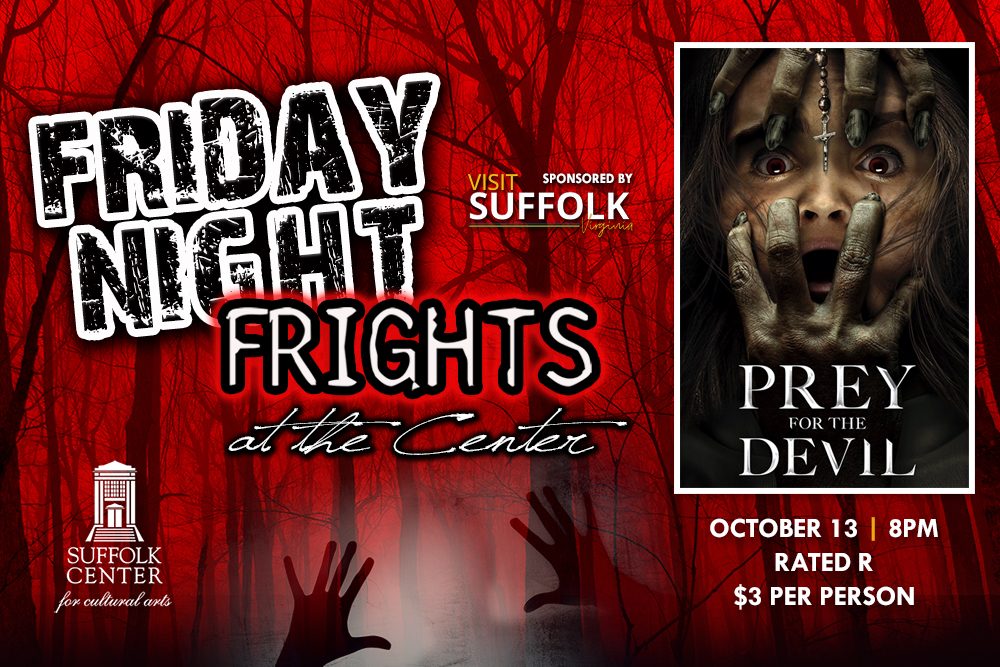 Friday Night Frights at the Center: Prey For The Devil
The Suffolk Division of Tourism wants to give you the fright of your life as they present a series of horror films at the Suffolk Center for Cultural Arts. On Friday, October 13, 2023, join us for Prey For The Devil. The show begins at 8pm and admission $3 per person. For more information, please contact the Suffolk Center for Cultural Arts box office at 757.923.2900.
In response to a global rise in demonic possessions, Sister Ann seeks out a place at an exorcism school reopened by the Catholic Church, answering a call to be the first female exorcist. Thrust onto the spiritual frontline with fellow student Father Dante, Sister Ann finds herself in a battle for the soul of a young girl, who Sister Ann believes is possessed by the same demon that tormented her own mother years ago. Determined to root out the evil, Ann soon realizes the Devil has her right where he wants her. The cast includes Jacqueline Byers, Christian Navarro, Ben Cross, Virginia Madsen, and Posy Taylor. This 2022 movie is rated R and has a running time of 93 minutes. No children under 17 will be admitted.