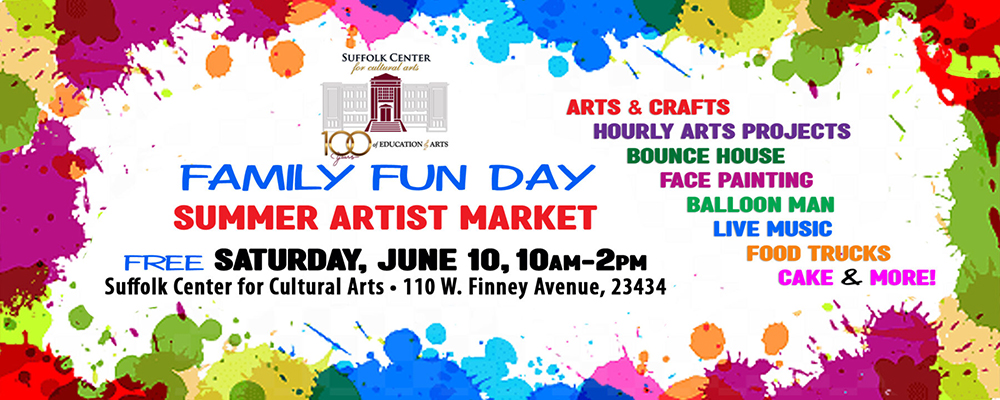 Free Family Fun Day at the Suffolk Center
The Suffolk Center for Cultural Arts kicks-off JUNE with a FAMILY FUN DAY featuring a Summer Artist Market & Centennial Celebration on Saturday, JUNE 10, 2023, from 10am – 2pm. This event is rain or shine, inside the Taylor Ballroom, with Family Fun activities inside and outside the Suffolk Center. The event celebrates Suffolk Center's 100 years of Education and Arts at our beautiful home in the former historic Suffolk High School.
Free Family Fun abounds with a colorful bounce house, Bobby the Clown balloon creations, face painting, live music by Mark Calhoon – Acoustic Tunesmith, great food, the Artist Market, and FREE ARTS activities each hour.
ARTS PROJECTS:
10-11am: Clay project with Lisa Morrison
11am-12pm: Decorating flower pots 
12-1pm: Create a free 8-inch by 10-inch canvas painting for DAD, with Rhona Dawson
1-2pm: Line Dancing, with Alicia Edwards
ARTISAN MARKET 10am-2pm
• Candles/ Gifts by Stephanie Oestricher-Perkins, Lilly Haberdashery
• Soaps Gift baskets, Teas by Jilohn Williams, Body Love Self Care
• Up-cycling Jeweled Art by Karen Sumner
• Acrylic Paintings by Elizabeth Jones, Back Porch Paintings
• Baked Goods by Gwendolyn Freeman, The Pink Box
• Oil Paintings by Myke Irving
• Color Pencil Drawings by Steve McCleary
• Soy Candles by Haydee Narro, Velapure Soy Candles
• Press on Nails by Brittney Eldridge, Britt Brat Nail'Dit
• Handmade Clothing & Accessories by Sharon Sharpe, We Be Jammin'
• Oil Paintings, pastel, charcoal drawings by Gretchen Boals, Just G Visual Arts
• Smoke Cheeses by Kevin Bracy, Up In Smoke, LLC
• Fresh pressed juices by Jennifer Brantley, Blooming Lotus
• Glass Items, Décor & Gifts by Thea Twisdale
• Glass and Jewelry by Kay Bolden
• Gifts by Rhona Dawson
• Soaps by Anna Raby, A.N.N.A Soaps