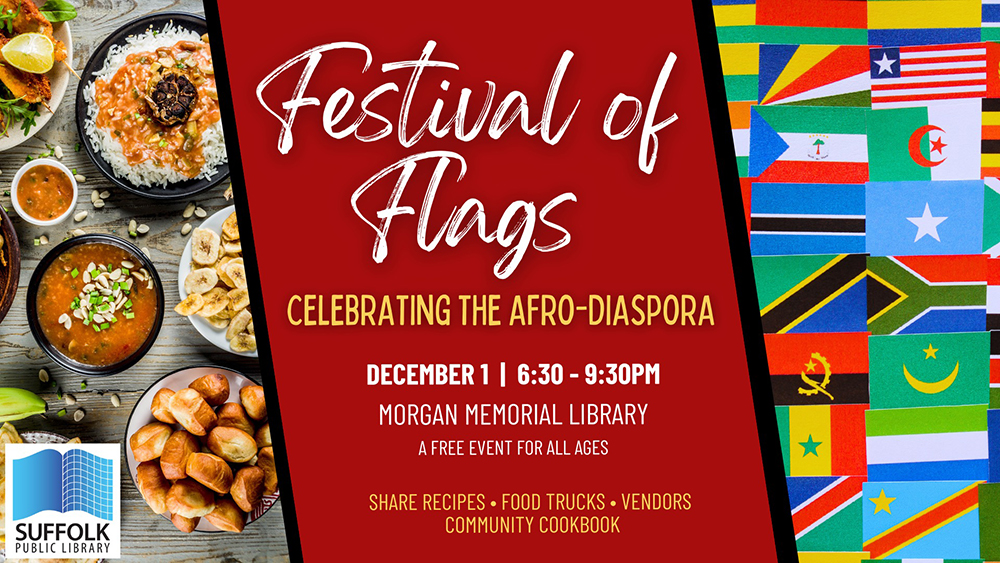 Festival of Flags: Celebrating the Afro-Disaspora
Join us at Suffolk Public Library's Festival of Flags, a festival dedicated to celebrating the many countries in the Afro-Diaspora. Share your story at the open mic, show off your knowledge at trivia, create buttons to represent your flag, and more! Food, drink and merchandise will be available for purchase.
Spread the wealth of unique cultural dishes by submitting a recipe to be apart of our Festival of Flags Community Cookbook: https://docs.google.com/…/1FAIpQLSeAApsc8NfaXO…/viewform
**Please note: you must have a Gmail account to submit your recipe.
Festival of Flags is a free-to-attend event, for all ages. Doors open at 6:30pm for this afterhours event. Last entrance is 7:30pm.
For more information, contact the Suffolk Public Library at 757-514-7323 or visit SuffolkPublicLibrary.com.