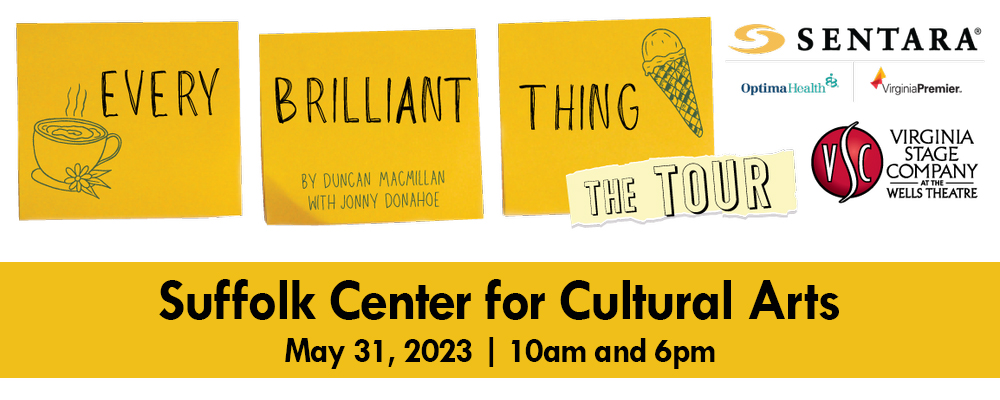 "Every Brilliant Thing"
In cooperation with Virginia Stage Company, Suffolk Center for Cultural Arts is pleased to present "Every Brilliant Thing" on our stage, Wednesday, May 31st at 10am and 6pm.  "Every Brilliant Thing" is told from the perspective of a single performer. It is an immersive experience that blends comedy, improv, and audience interaction to tells one individual's story of growing up in the shadow of their mother's struggle with suicidal depression while also learning to grapple with their own journey and life experiences. Surprisingly charming and delightful, "Every Brilliant Thing" provides a life-affirming jolt of humanism, reminding us that hope comes from the miracles of life's minutiae. The aim is to destigmatize the conversation around mental health and encourage the audience to see the many ways in which we all experience joy and hardship.
The performance is approximately 60 minutes in length and will provide afterwards an opportunity for students to speak privately and confidentiality with a healthcare professional, should they feel a need.  "Every Brilliant Thing" speaks openly about depression, mental illness, and suicide. If you or someone you know is in crisis or thinking about self-harm or suicide, there is help available.
"Every Brilliant Thing" is recommended for children in grades 7 and higher only.  Admission is FREE, but seats are limited and requests for tickets will be on a first-come, first-served basis.