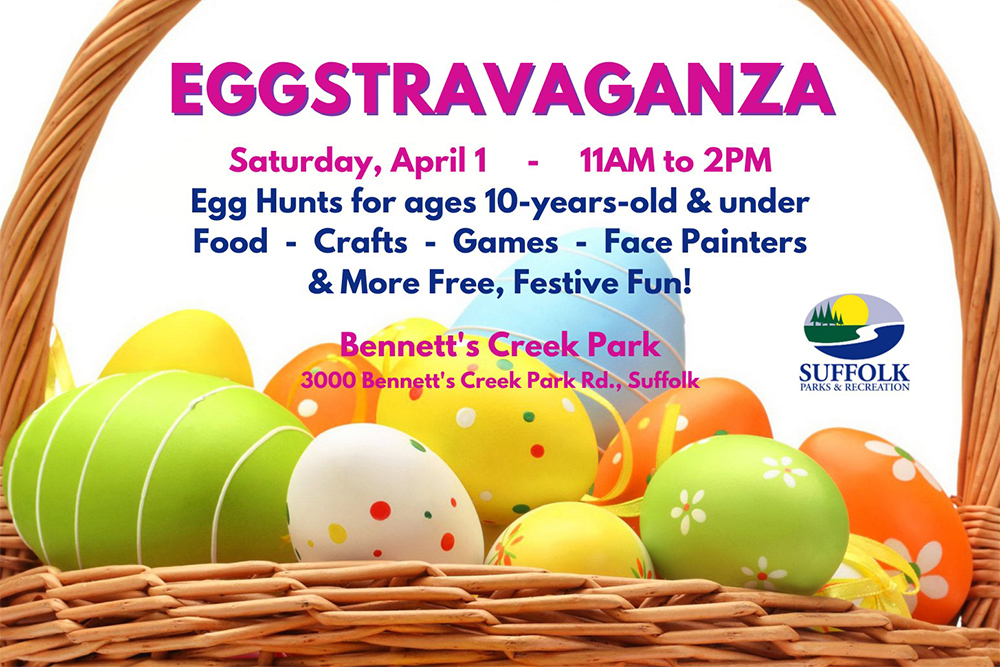 Eggstravaganza 2023
The bunny is back for another year at Bennett's Creek Park! Join Suffolk Parks & Recreation at Eggstravaganza on Saturday, April 1, 2023, from 11am to 2pm. This family-favorite will feature Peter Cottontail, egg hunts, food trucks, games, crafts, face painters, a petting zoo, and more! This festive event is sure to have something for the whole family.
The egg hunt schedule is as follows:
Ages 0 to 2: 11:30am
Ages 3 to 5: 12pm
Ages 6 to 7: 12:30pm
Ages 8 to 10: 1pm
*Any leftover eggs will be available for an all ages, final hunt at 1:30pm.
Bags will be provided for the egg hunt. Please bring your own camera for photos with the bunny. Food and various vendors will have items for purchase.
For more information, contact the Suffolk Parks & Recreation Department at (757) 514-7250 or parksemail@suffolkva.us.