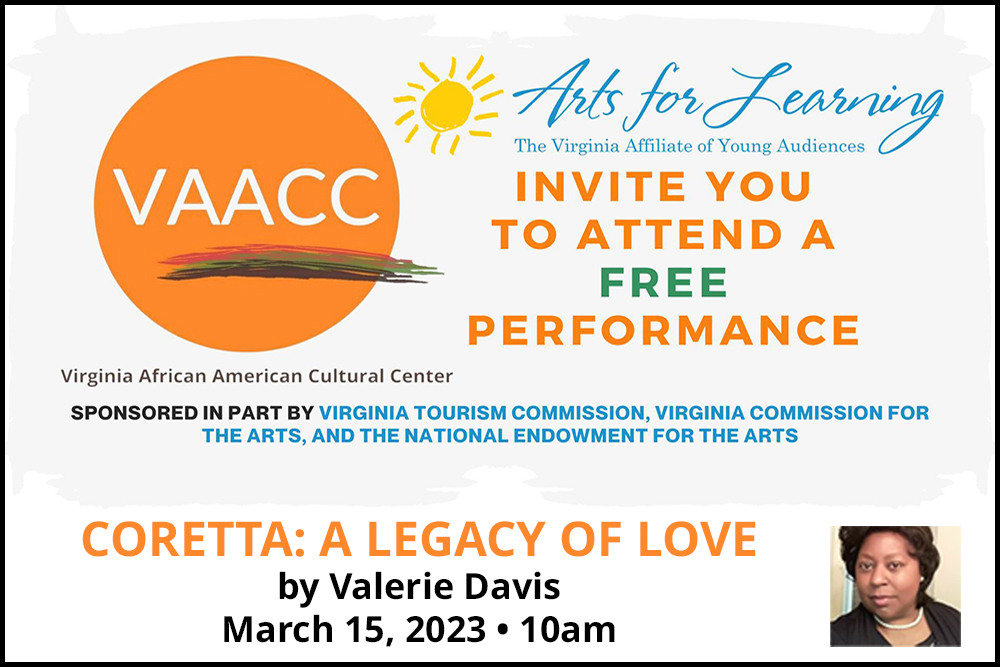 Coretta: A Legacy of Love by Valerie Davis
Hailed as the "First Lady of the Civil Rights movement," Coretta Scott King comes to life in this moving performance by Valerie Davis. From her marriage to Dr. Martin Luther King, Jr., to her life dedicated to political activism, Coretta was an American legend at the forefront of the fight for human rights. Through music and stories, this interactive performance asks the audience, through Coretta's voice, to consider the question of how they can combat injustice.
This program is great for individuals in grades 3-12, as well as adults!
Sponsored in part by Virginia African American Cultural Center, Arts for Learning (The Virginia Affiliate of Young Audiences), Virginia Tourism Commission, Virginia Commission for the Arts, and The National Endowment for the Arts. 
For questions, or to register your group to attend, please contact LaFrancis McPherson, Performing Art Manager at 757-923-0003, ext. 103 or l.mcpherson@suffolkcenter.org.