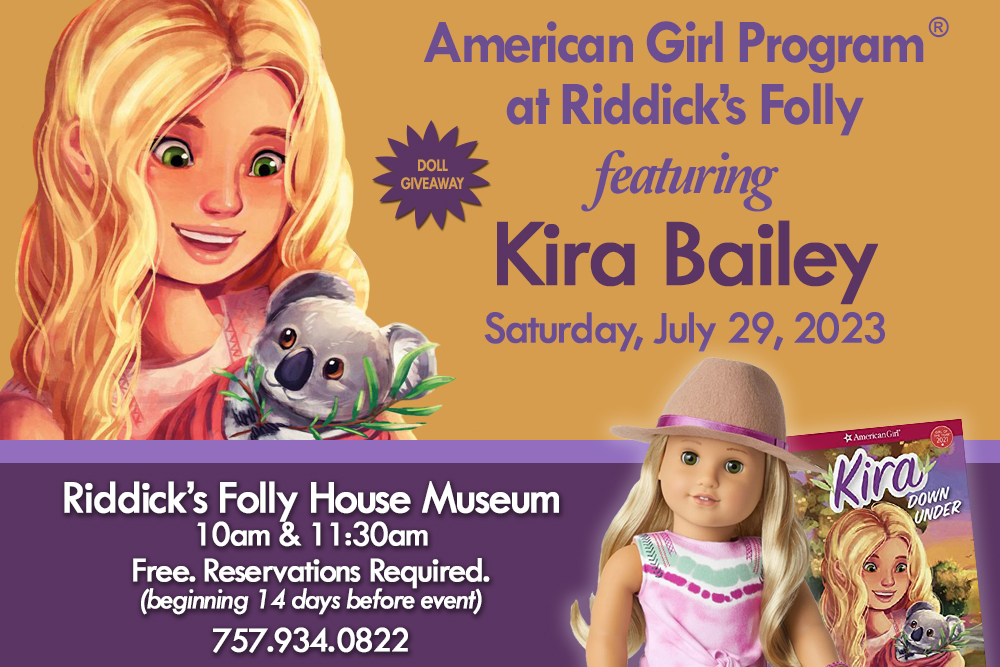 American Girl Program: Featuring Kira Bailey
It's the return of the popular American Girl Program, featuring Kira Bailey, on Saturday, July 29, 2023, at Riddick's Folly House Museum!
American Girl Kira Bailey is living her dream: Cuddling koalas and bottle-feeding baby kangaroos. Kira and her mom are spending the summer at a wildlife sanctuary in Australia helping her aunt Mamie, a veterinarian, care for the animals. When Kira falls in love with an orphaned koala joey, her joy is complete—until a health emergency pulls Aunt Mamie away. Suddenly Kira can't seem to do anything right. She's put the wombats and her beloved koala joey in danger, and now her new friend Alexis won't talk to her. Can Kira find a way to catch a roving predator–along with a few wayward wombats—and earn back everyone's trust?
We will be giving away a doll to one of the girls who attends. There will be 2 sittings: 10am and 11:30am. Space is limited (20 girls per sitting) and reservations are required. Donations welcome. Ages 6-12 are welcome; all children must be accompanied by an adult.
Call for reservations at 757.934.0822 or email riddicksfolly@verizon.net, beginning 14 days before the event. If you are unable to attend the program (once you have a reservation), please call us. We always have a waiting list and we hate for a child to miss this opportunity!