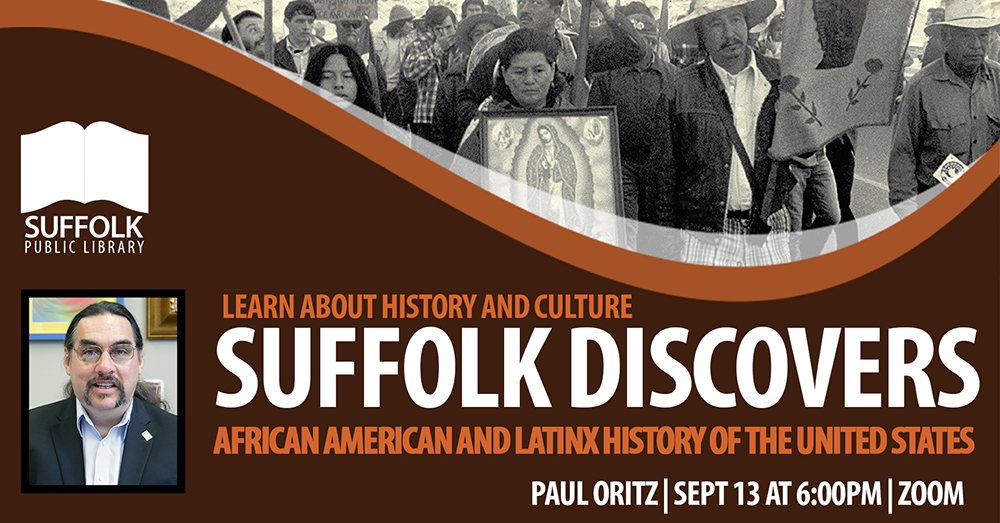 Suffolk Discovers: African American and Latinx History of the United States
Interested in learning more about the world and history? Suffolk Discovers meets every month to discuss a new theme that explores the cultures and backgrounds of people in our communities. For adults.
In September, we're pleased to host American historian Paul Ortiz, author of An African American and Latinx History of the United States. Ortiz is a professor of history at the University of Florida and is Director of the Samuel Proctor Oral History Program. Ortiz argues that the "Global South" was crucial to the development of America as we know it. By challenging the notion of westward progress as exalted by widely taught formulations like "manifest destiny" and "Jacksonian democracy," Ortiz shows how placing African American, Latinx, and Indigenous voices unapologetically front and center transforms U.S. history into one of the working class organizing against imperialism.
Registration is required to attend virtually. Registered participants will provide their email address to receive a link to the Zoom meeting at least 15 minutes before the program begins. The event will be recorded and shared after the event on Suffolk Public Library's YouTube channel. For more information, contact the Suffolk Public Library at 757.514.7323 or visit SuffolkPublicLibrary.com.