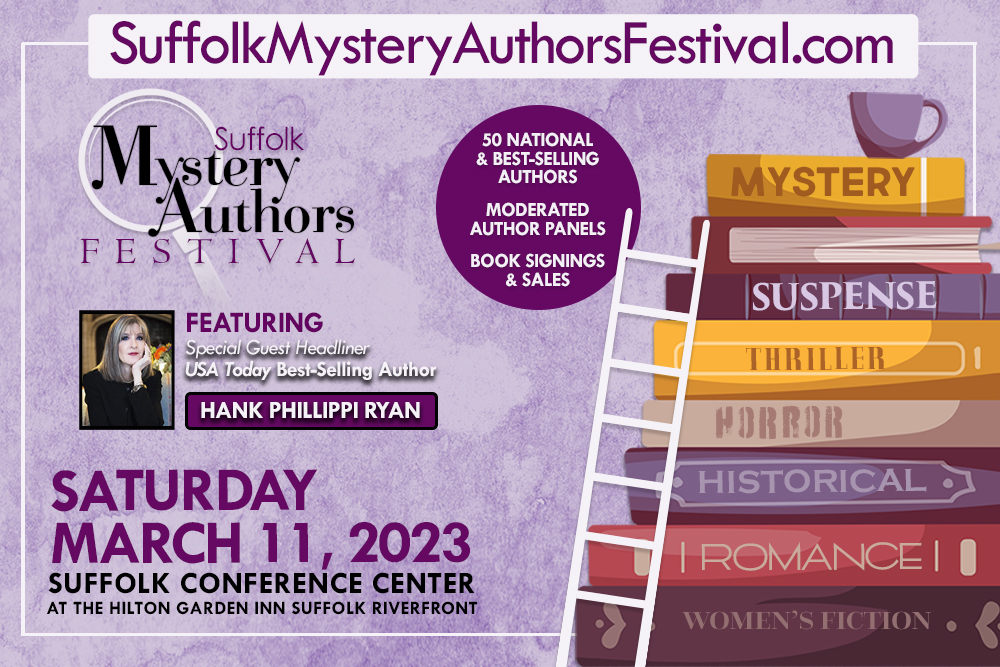 Suffolk Mystery Authors Festival 2023
Join us for the Annual Mystery Authors Festival on Saturday, March 11, 2023, from 1-6pm, at the Suffolk Conference Center at the Hilton Garden Inn Suffolk Riverfront. This one-day festival will showcase 50 best-selling mystery, thriller/suspense, horror, paranormal, science fiction, historical, romance, and women's fiction authors. Highlights include author meet & greets, as well as book sales and signings, and moderated author panels. Free to attend!
Along with our Headliner, USA Today Best-Selling Author Hank Phillippi Ryan, the Featured Authors scheduled to attend include:
Obelia Akanke, Gabby Allan, Betsy Ashton, Paul Awad, E. A. Aymar, Catherine Bruns, Thomas A. Burns, Jr., Ellen Butler, Lynn Cahoon, Austin Camacho, Maya Corrigan, John DeDakis, Diane Fanning, Victoria Gilbert, John Gilstrap, Marni Graff, Bradley Harper, Rebecca Hemlock, Jeffrey James Higgins, Edwin Hill, Tim Holland, Teresa Inge, Thomas Kies, Dana King, Tara Laskowski, Jackie Layton, Con Lehane, Allie Marie, Karen McCullough, Mary Miley, Julie Moffett, K. L. Murphy, Stacie Murphy, R. A. Muth, Nancy Naigle, Nan O'Berry, Kathryn O'Sullivan, Josh Pachter, Mindy Quigley, Amy M. Reade, Shawn Reilly Simmons, Katharine Schellman, Hunter J. Skye, Rosalie Spielman, Art Taylor, Grace Topping, Christine Trent, LynDee Walker, and Heather Weidner.
*A private pre-festival VIP Reception will take place from 11:30am-12:45pm. Tickets are now sold out for this event.