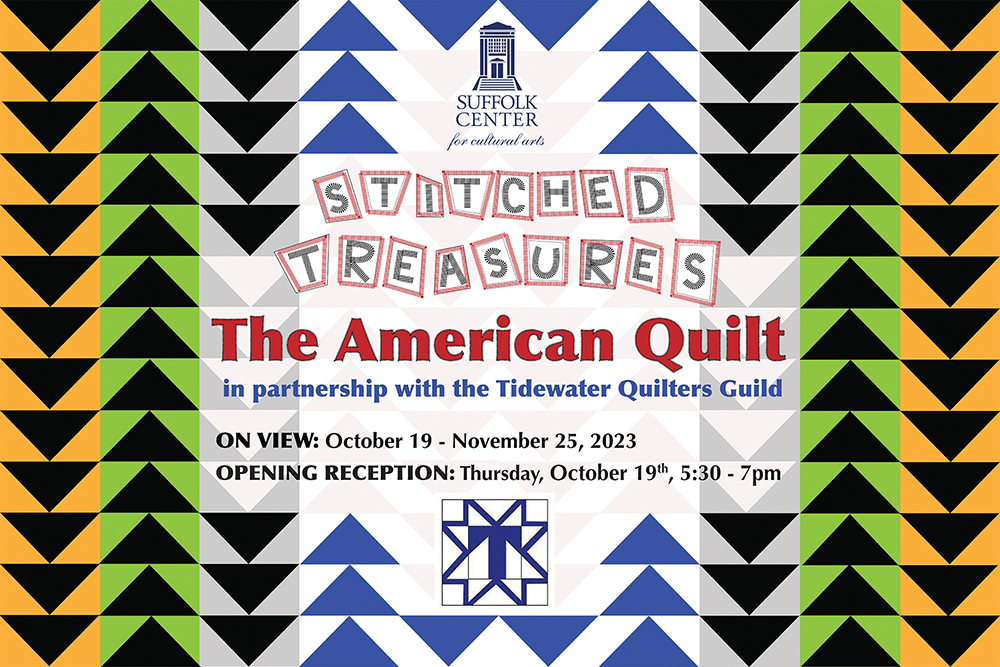 Stitched Treasures: The American Quilt (Exhibit)
Suffolk Center for Cultural Arts is delighted to feature a cozy new art exhibition, Stitched Treasures: The American Quilt. Partnering with the Tidewater Quilters' Guild, these one-of-a-kind quilts have been created by 16 of the guild members. The exhibition is on display October 19-November 25, 2023. Gallery hours are 10am-4pm, Tuesday-Saturday.
Quilting, a process of joining layers of fabric together either through stitching manually or mechanically using needle and thread, has been in use for centuries. This exhibition will feature the American quilt and its respective techniques and the meaning of various patterns. The exhibit will shed light on the American wholecloth quilt made during the colonial period as well as the patchwork quilt, which dates back to the 1770s.
Tidewater Quilters' Guild Artists featured in the exhibit include:
Deb Garrett; Bunnie Cleland; Darlene Price; Faye Hannah; Laura Storm; Karin McElvein; Debby Coleman; Susan Newsome; Sharon Brandt; Norene Skiles; Debra Wiley; Ann Walls; Angela Cartwright; Charlene Freeland; Nancy Gorry; and Jackie Gaskins.
Founded in 1979, the Tidewater Quilters' Guild provides educational programs and workshops in various techniques relative to the needs of those interested in the art of quilt making and similar arts; to educate the public about this fine art; to preserve the tradition, culture and history of quilts. Guild members gather to learn new techniques, improve general workmanship, share knowledge and their quilts, participate in community service projects and enjoy friendships with others who share their love of quilting.