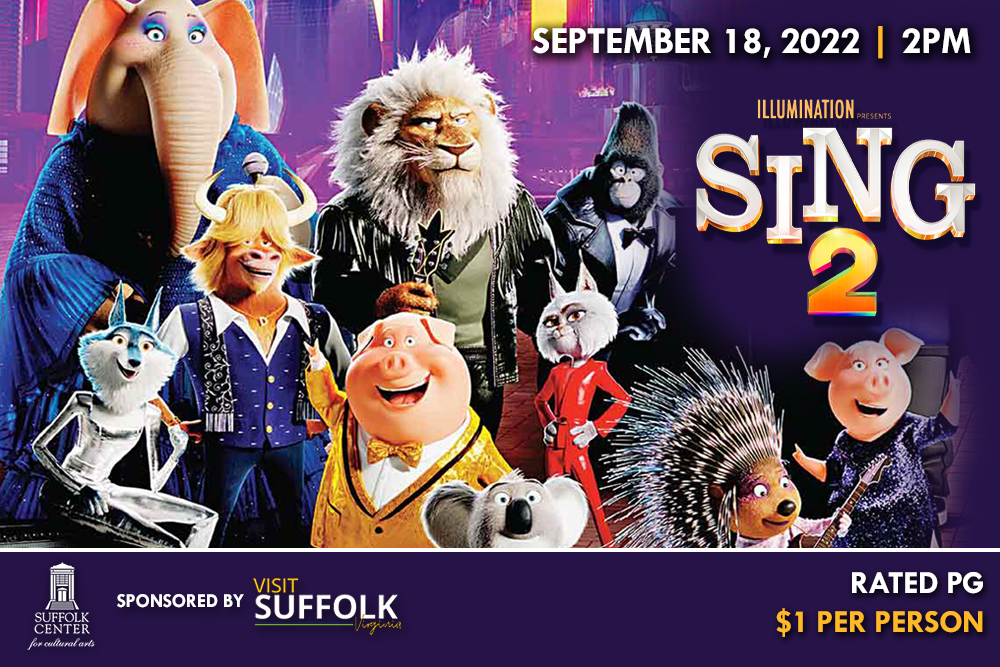 Family Movies at the Center: Sing 2
Join Suffolk Tourism, in partnership with the Suffolk Center for Cultural Arts, as they proudly present the blockbuster animated film, "Sing 2" on Sunday, September 18, 2022. Admission is $1 and the movie will begin at 2pm. All children must be accompanied by an adult. To purchase tickets, contact the Suffolk Center for Cultural Arts box office at 757.923.2900 or visit SuffolkCenter.org.
Buster Moon and his friends—Johnny, Meena, Rosita, Gunter, and Ash—have turned the New Moon Theater into a local hit, but Buster has his eyes on a bigger prize: debuting a new show at the Crystal Tower Theater in glamorous Redshore City. But with no connections, Buster and friends must persuade reclusive and broken-hearted rock star Clay Calloway to join them for the opening of a new show, in order to save their reputations. What begins as Buster's dream of big-time success becomes an emotional reminder of the power of music to heal even the most broken heart. The all-star cast includes Matthew McConaughey, Taron Egerton, Tori Kelly, Reese Witherspoon, Scarlett Johansson, and Bono. This 2021 film is rated PG and has a running time of 95 minutes.