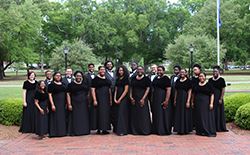 Chowan University Chorus
The Chowan University Singers and Men's Chorus, the premier touring choral ensembles of Chowan University, combined with the Chowan Community Chorus, will present a special concert at the Suffolk Center for Cultural Arts. This classical choral concert will feature the Requiem of Gabriel Fauré. The Chowan Singers and Community Chorus will perform this classic choral masterwork. Additionally, the Chowan Singers and Men's Chorus will sing works ranging in style from classical a cappella music to contemporary gospel, including choral standards by Felix Mendelssohn, Thomas Tallis, and Alice Parker.

Chowan Singers is a select ensemble that consists of 18 students, about half of whom are music majors. Chowan Singers has presented numerous concerts throughout North Carolina and the mid-Atlantic region. In addition, the group has traveled in recent years to perform in Ireland, Italy, and New York City.
Chowan Singers, Men's Chorus, and Community Chorus are under the direction of Dr. Benjamin Thorburn, Director of Choral Activities and Associate Professor of Music at Chowan University. Dr. Thorburn holds degrees from the University of Rochester and Yale University. Paula Pressnell, Artist in Residence at Chowan, is the collaborative pianist for the choirs. Mrs. Pressnell is a cum laude graduate of Salem College, where she was a piano student of Clemens Sandresky.