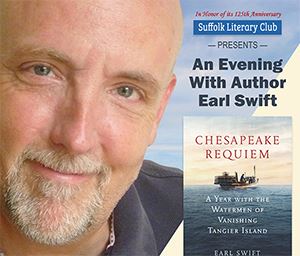 An Evening with Earl Swift
Join the Suffolk Center for Cultural Arts and partner organizations around Suffolk as they welcome author Earl Swift. He will give a presentation based on his experiences living on Tangier Island while researching his award-winning book, "Chesapeake Requiem: A Year With the Watermen of Vanishing Tangier Island." Free to attend, but tickets are required. This is a masked event.
A Q & A period will follow the presentation; refreshments will be served.
Features environmental and community exhibits.