All About Mr. Peanut!
Can you find all of the cast iron Mr. Peanut statues scattered throughout Suffolk? As Mr. Peanut's "Birthplace," we are incredibly proud of our dapper legume. Enjoy the nod to Planters Peanuts, found throughout Suffolk. Learn about the history of Planters along the way.
Oderzo Fountain (Courthouse Park)
North Main Street between 150 and 126 North Main Street
This fountain, dedicated to the City of Suffolk, embodies elements of classic design that symbolize the ancient Roman origins of Oderzo, Italy. The mosaic tiles forming the amphora, or vase, are a gift from the citizens of Oderzo to the citizens of Suffolk. This amphora resembles many archeological finds near Oderzo from the Roman period. The words 'Oderzo' and 'Opitergium' on the back of the stele, or column, are the present name and original Roman name of the town. In addition, a brass plate shows the shape of Italy and the location of Oderzo. The bottom of the basin is trachyte, the same marble used to build the old Roman forum and the town square of Oderzo.
This fountain honors Amedeo Obici, founder of Planters Peanuts and Louise Obici Memorial Hospital. Designed by Architect Paolo Rosso of Oderzo, Italy, the fountain commemorate the Sister Cities relationship between Suffolk and Mr. Obici's birthplace of Oderzo.
Character Corner / Mr. Peanut Statue
Corner of Main Street and Washington Street
One of Suffolk's most famous citizens is Mr. Peanut, who keeps watch over Downtown Suffolk from his perch at Character Corner. "Born" in 1916, Mr. Peanut was the creation of a 14-year-old Suffolk boy who submitted the winning entry in a Planters logo contest. An artist later added the top hat, cane, and monocle.
Planters Peanut Store
308 West Washington Street, 757.539.4411
Step back in time and enjoy the aroma of peanuts roasted in the shell daily by a 1936-model roaster. The retail store offers a wide variety of Planters Peanuts, candies and other snack products. Gift packs and shipping. Complimentary peanut recipes upon request.
Seaboard Station Railroad Museum
326 North Main Street
This restored 1885 Main Street station displays a two-room HO-scale model of Suffolk in 1907 that was built by the Tidewater Division of the National Model Railroad Association. The museum features railroad memorabilia and a special gallery dedicated to the history of peanuts in Suffolk, Virginia.
Cedar Hill Cemetery featuring the Grave of Antonio Gentile
Mahan Street, 757.514.4130
Originally constructed as "Green Hill Cemetery," this 32-acre expanse of hilly terrain and ancient cedar trees has many stories to reveal.
In 1916, to help distinguish themselves from others, the Planters Nut & Chocolate Company ran a contest to create a trademark that would set them apart from the rest. Antonio Gentile (Tony), a fourteen-year old student and resident of Suffolk, Virginia drew the iconic Mr. Peanut® making it one of the most widely recognized advertising logos in the United States. An advertising agency artist later added Mr. Peanut's® top hat, cane, and monocle to give him a more sophisticated look. Antonio Gentile earned $5 for his winning entry, but most importantly became forever known as the boy who created Mr. Peanut®. Tony became an Eagle Scout and graduated as valedictorian of his high school class in 1920. He went on to the University of Virginia, earning honors and three degrees: undergraduate, medical, and master's in science. His medical career took him to work as an obstetrician-gynecologist at Elizabeth Buxton Hospital in Newport News where he was one of the youngest surgeons to be admitted as a Fellow in the American College of Surgeons. Gentile died of a massive heart attack at the age of 36 in 1939.  He is buried in Cedar Hill Cemetery.
Suffolk Visitor Center Nansemond County Courthouse
524 North Main Street, 757.514.4130
Overlooking the Nansemond River, the provincial Roman Revival style structure with its very tall Tuscan columns was an impressive site for early travelers arriving on the river. Today the building retains its commanding presence and historical significance as the Suffolk Visitor Center. The first floor provides an exhibit gallery highlighting the history of Suffolk and the Great Dismal Swamp, a greeting and information area and a gift shop. The second floor houses municipal offices for the Department of Economic Development and Division of Tourism.
Take a selfie with the cast iron Mr. Peanut Statue located behind the Suffolk Visitor Center!
Sentara Obici Memorial Hospital ~ Amedeo Obici Grave and Exhibit
2800 Godwin Boulevard
Since 1951, the residents of Suffolk and surrounding communities have been heir to a legacy of health and hope through the generosity of one man, Amedeo Obici, the founder of Planters Peanuts. When his wife, Louise, died in 1938, Obici, who was one of the nation's leading industrialists, established a lasting memorial – one that would pay a fitting tribute to the woman he loved and the place they both loved and called home: Suffolk, Virginia.
This memorial, The Obici Charitable Trust, financed the building of the Louise Obici Memorial Hospital. Subsequently, it provided partial funding for the new Obici Hospital dedicated in 2002. Portraits and memorabilia from Amedeo and Louise and a pictorial history of the hospital are displayed in the Heritage Hallway on the garden level at the hospital.
In 2006, Obici Hospital merged with Sentara Healthcare. By gaining resources and award-winning programs of Sentara Healthcare, the patients and community can be assured of comprehensive care in the years ahead.
Sentara Obici Hospital is committed to evolving and growing to meet the needs of its community. In June 2010, it opened a new three-story, 63,480 square-foot wing, which includes all private beds serving orthopedic, medical, and surgical patients and increases the hospital's bed capacity to 168 beds.
Sentara Obici Hospital continues to dedicate itself to the practice of quality care and the legacy established by its founder, Amedeo Obici.
Obici House at Sleepyhole Golf Course
4700 Sleepyhole Road
Amedeo Obici, an Italian immigrant and founder of Planters Peanuts, built this 1920s Art Nouveau-style mansion along the Nansemond River, home to him and his beloved wife Louise. The Obicis were known in Suffolk for both their philanthropy and gracious hospitality. This historic home, listed on the National Register of Historic Places, was renovated to accentuate its original grandeur and now has taken on a new life as a popular special events venue and restaurant. A cast iron Mr. Peanut statue is proudly situated in front of the Obici House.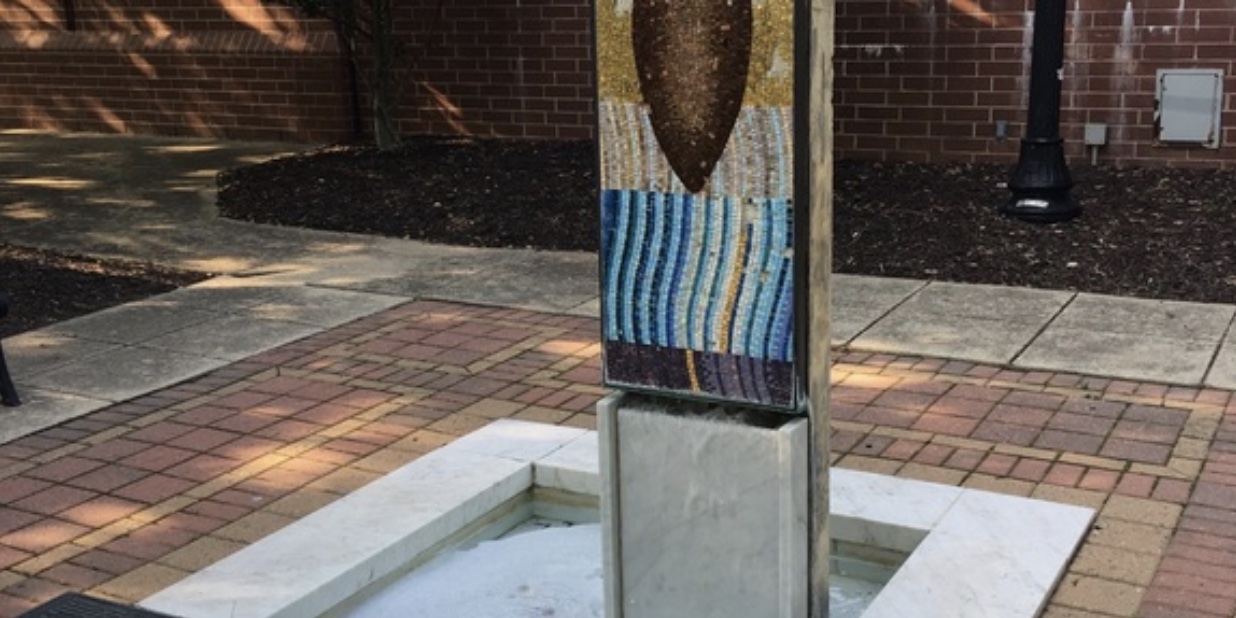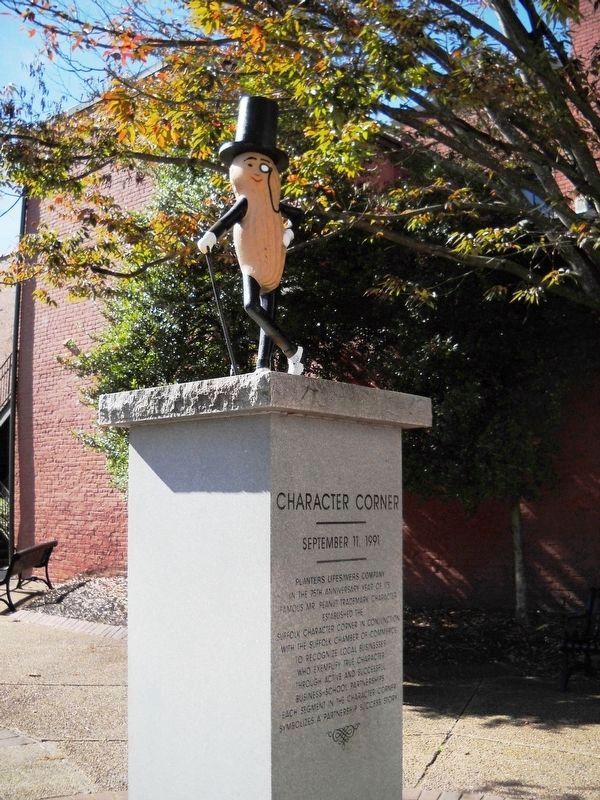 Character Corner / Mr. Peanut Statue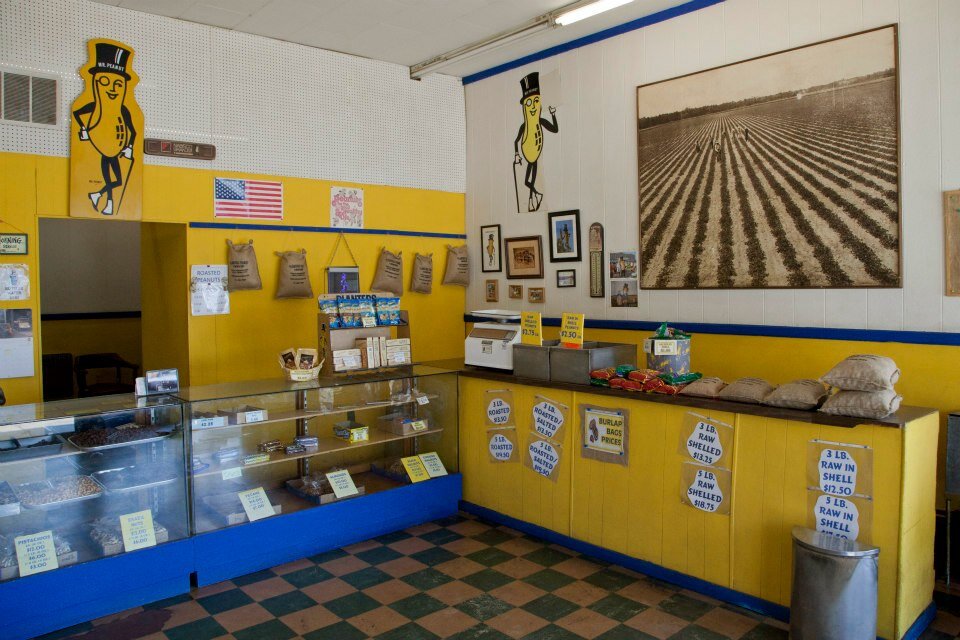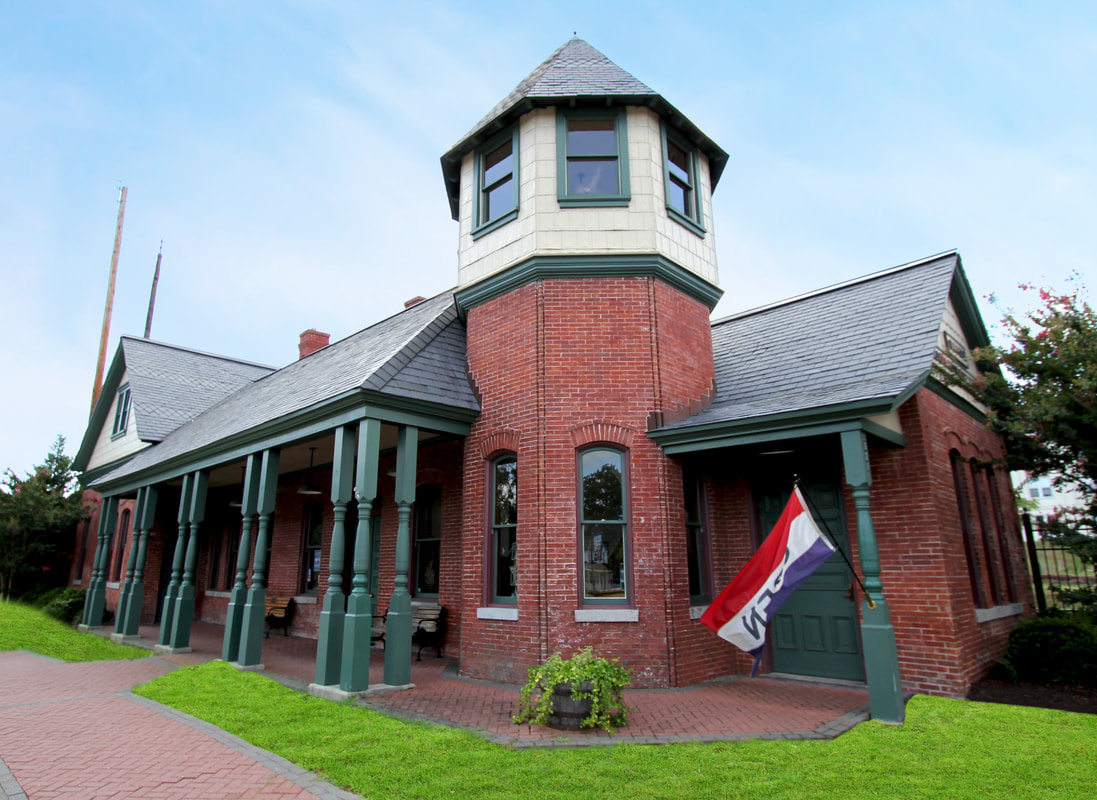 Seaboard Station Railroad Museum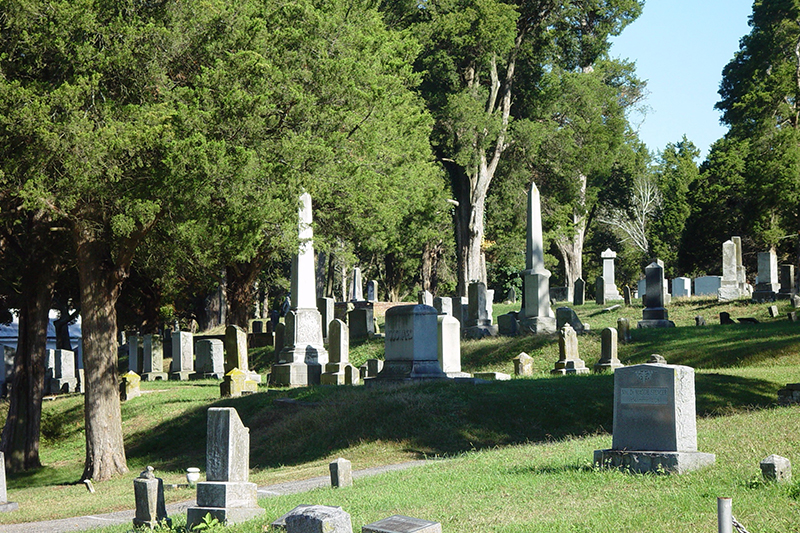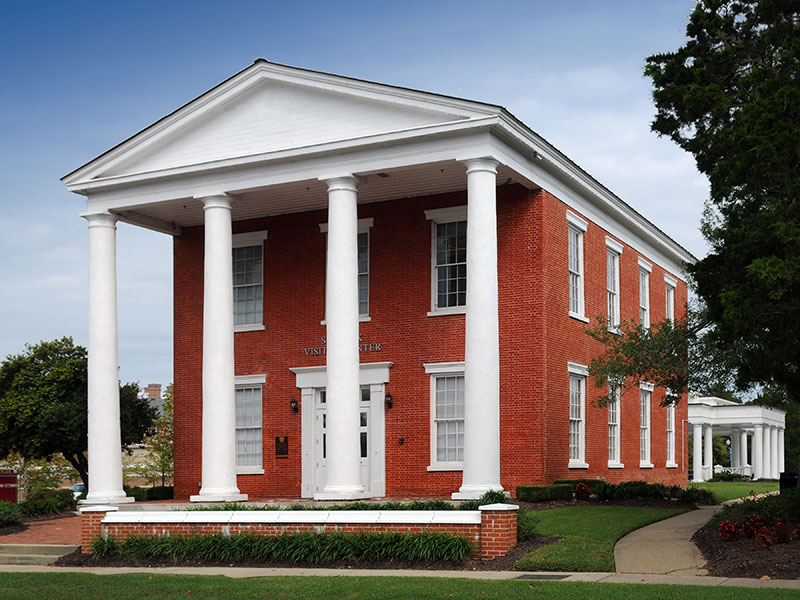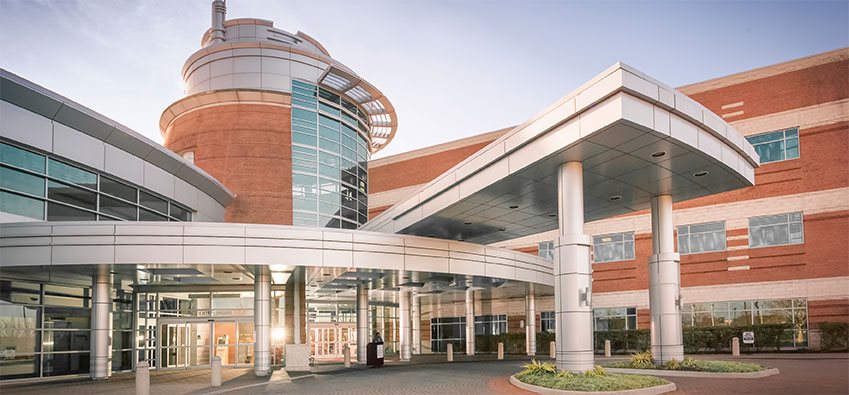 Sentara Obici Memorial Hospital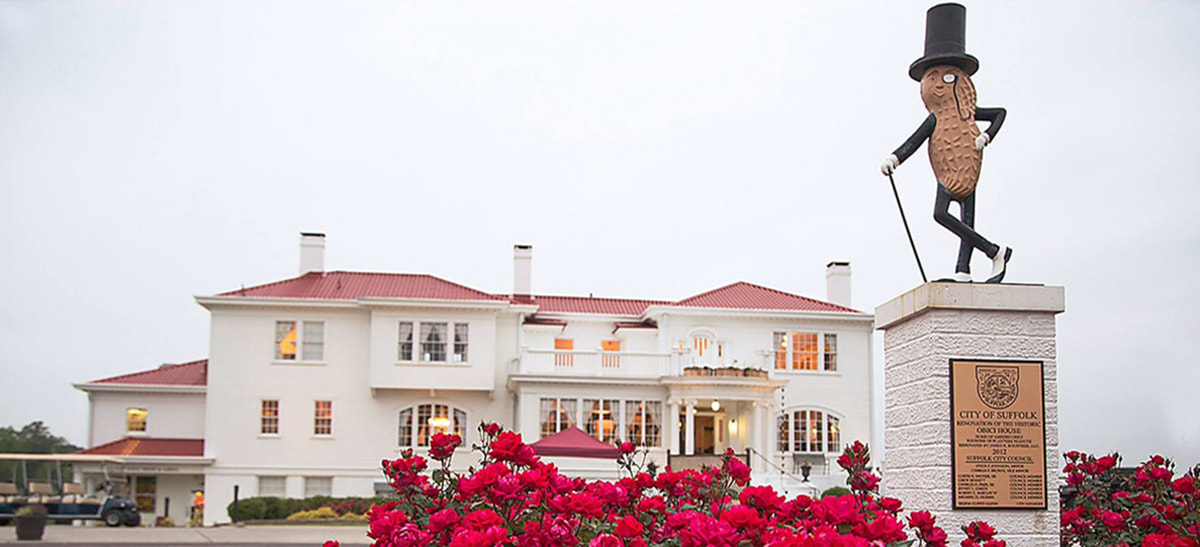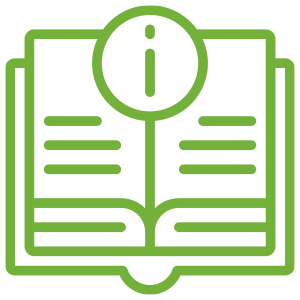 Get your free Visitors Guide
Your ultimate guide to Suffolk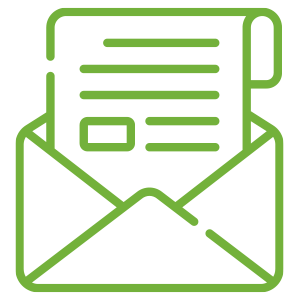 Sign up for our Newsletter
Be the first to hear about travel ideas, new local experiences, and deals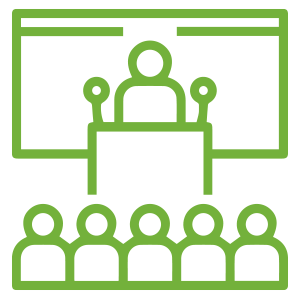 It's a good time to meet in Suffolk!