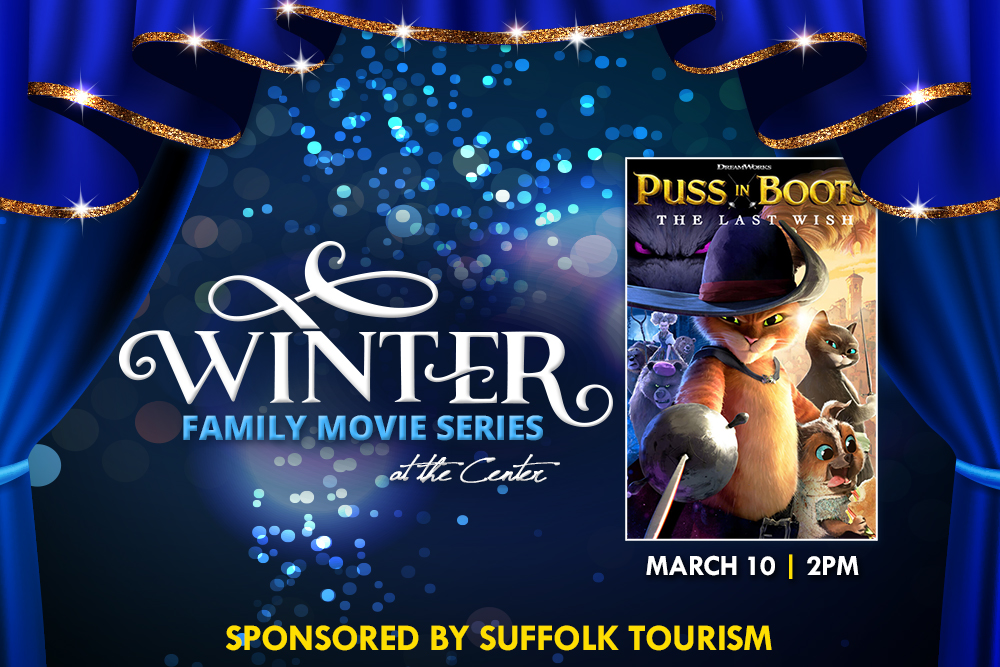 Winter Family Movie Series at the Center: Puss In Boots – The Last Wish
Join Suffolk Tourism, in partnership with the Suffolk Center for Cultural Arts, as they proudly present the Winter Family Movie Series at the Center, three blockbuster family movies that enchanted worldwide audiences. The series concludes on Sunday, March 10, 2023, when the animated Puss In Boots: The Last Wish comes to the big screen. Admission is $2 per person, and the movie will begin at 2pm.
Puss in Boots discovers that his passion for adventure has taken its toll and he has burned through eight of his nine lives. To restore all his precious lives and escape an inglorious fate, Puss must pluck up his courage and embark on an epic journey into the Dark Forest to find the legendary Wishing Star. With danger around every corner, does Puss have what it takes to face his fears and get his life back on track? The vocal cast includes Antonio Banderas, Salma Hayek, Florence Pugh, Olivia Colman, and John Mulaney. This 2022 animated comedy is rated PG and has a running time of 102 minutes.